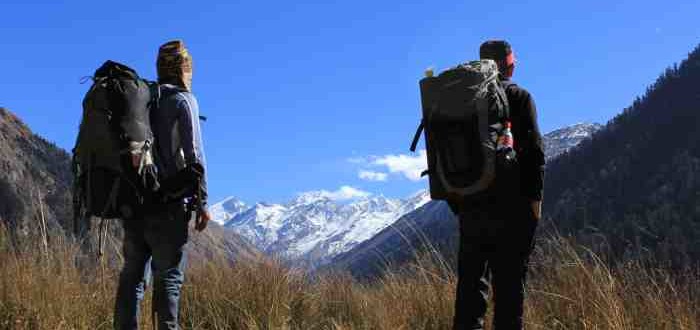 Why one should take out time to trek in the Mountains
When was the last time you experienced silence and solitude? If you have probably ever had, it must have been on some mountain trail somewhere. Mountains are symbol of strength and integrity. I always wondered why people wanted to climb mountains. So as the popular saying goes "it's magic when men and mountains meet."
I know what this is all about. Mountains have been there since time immemorial. Every day we see new technologies and inventions coming up. We are sitting in front of screens all the time, our desk tops are full. We are not sure how much of this is needed. It's really time for self redemption now.
We have to find time for our self. Once you are among the mountains, you realize how mortal and vulnerable you are. You feel all the artificial problems you encountered in life worth nothing up here. Trekking in the mountains will truly change your life. The trails take you through winding paths, dense forests, hidden valleys and forests. You walk on alluring ridgelines, and enchanting and mystical passes. You spend night camping in tents, gazing at stars. The night sky in the mountains is so clear, because of the clean and unsmudged air. You are away from your comfort zone. You start knowing what your mind and body is capable of achieving.
Your endurance level increases, which gives you more self confidence. Your mind is clear, and you are focused. There is no confusion, because you know your aim. When you reach your destination, all your pain, and fatigue is forgotten. You suddenly realize the earth is so beautiful. The enchanting landscapes and astonishing natural beauty will mesmerize you.
You will discover yourself. Discovering yourself is about living a moment, which you have dreamt of all your life, and eventually you are in that breathtaking situation. This is the magic of the mountains, not only they are known for their abundant natural beauty, they also touch a chord right in the core of the heart. It's divine to be with nature.
While trekking one learns to be with a team, to manage out of his comfort zone. You come back with stories and memories that will stay in your heart for ever.
Awaiting a day when you'll feel the zeal to hit the chord with nature and we meet at Deodar Cottage and head for a trail untrodden.