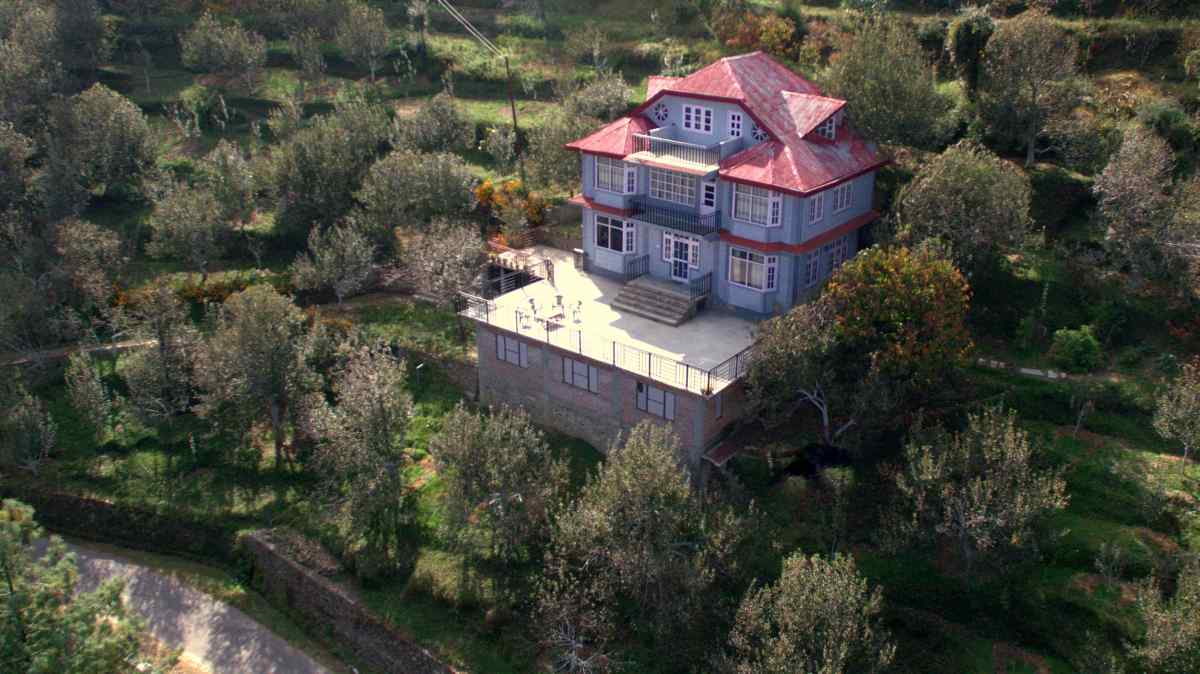 Deodar Cottage Bed and Breakfast is located amidst Apple and Cherry orchard in an inviting village of Thanedhar, Kotgarh, Himachal Pradesh (2.30 hrs drive from the queen of hills Shimla). A stay at our all-inclusive cottage is a best way to experience the most alluring, stress-free stay with authenticity and culture. We provide home-like comfort to our guests. It's a place where you can experience solitude and serenity. Go out for walks in the orchard or deodar forest or you can sit back and relax. Reconnect with nature and rejuvenate with nature.
Kotgarh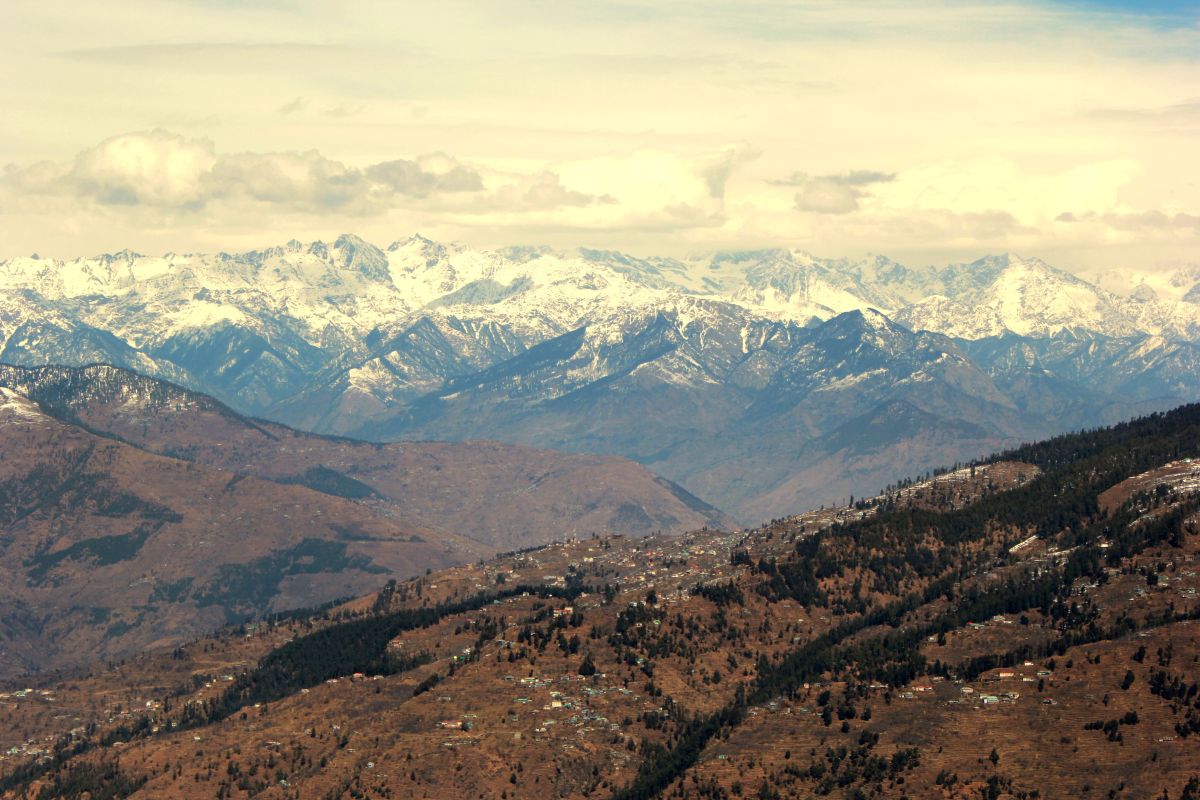 Kotgarh is beautiful valley at an elevation of 7,000 feet overlooking the Satluj River and snow clad sub Himalayan Range. The place is famous for its Apple and Cherry orchards. This village is 80 kilometres from Shimla on the old Hindustan Tibet Road. The Road bifurcates from the National Highway 22 at Narkanda toward Kotgarh. Deodar cottage is 17 kilometres from Narkanda in the heart of the Kotgarh Valley.
Kotgarh is a scenic valley, it offers a marvellous panorama of mountain range – the far ones being snow clad  and the near ones being covered with thick deodar trees. In the low portion of the valley flows the river Satluj.  The area is dotted with huge apple plantations and farmhouses amidst the terraced fields.  There are lot of short walks through the forests and apple orchards.
History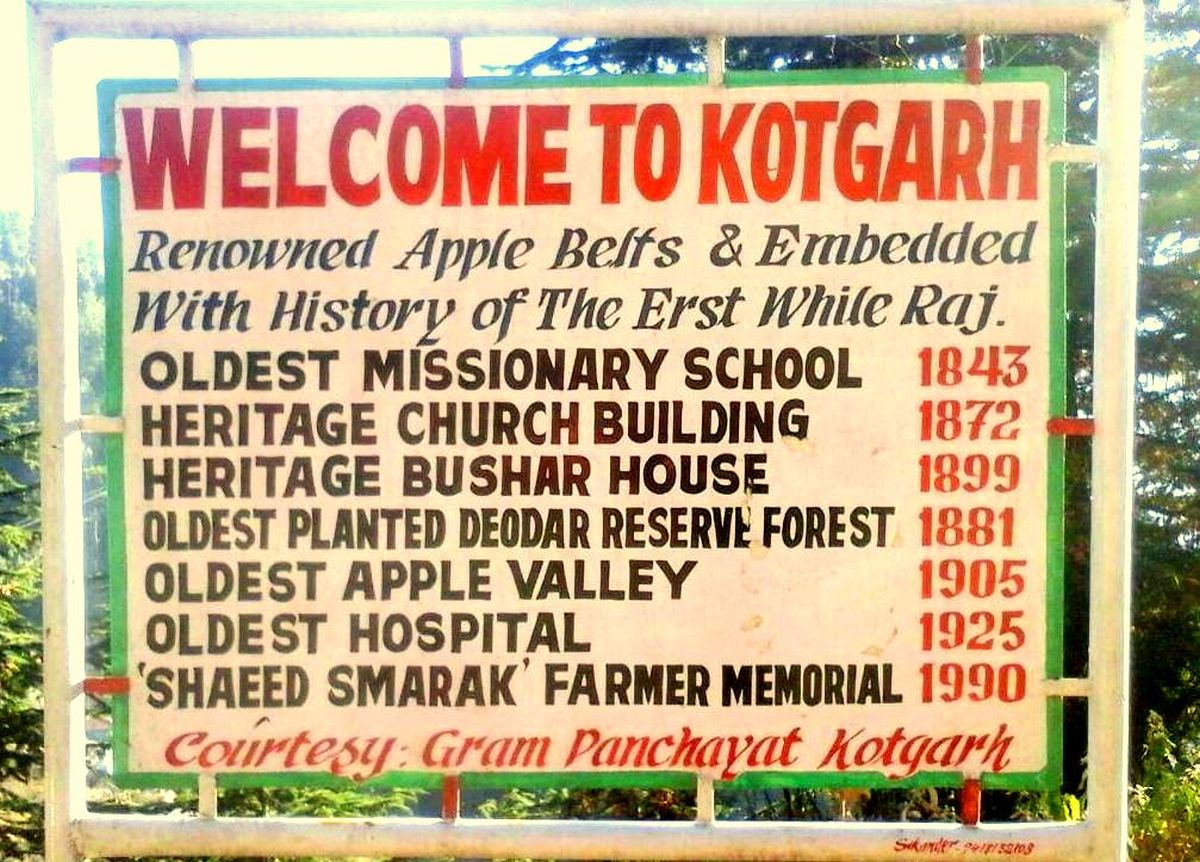 In 1815, Kotgarh became a British territory after the Gurkhas were defeated by the Britishers. The Britishers were impressed by the location, and beauty of the valley. The British encouraged missionary work in the area. You can find the impact of British rule here. Kotgarh is also an ideal holiday location in the Himachal Himalayas.
It was in 1916 that an American missionary from Philadelphia, USA, by the name of Samuel Evan stokes visited this place. He had initially come for spreading the teachings of Christianity, but he was so allured by the people and beauty of the area that he decided to settle here permanently. He married a local girl, by the name of Agnes Benjamin. He converted into a Hindu and renamed himself Satyananda Stokes. The descendants of Satyanand Nand stokes still live in kotgarh.
Satyananda Stokes planted the first commercial apple farm of the area, with plants imported from the famous Stark Apple Nursery growers of Louisiana. As he was a great social worker, he encouraged the local farmers to grow apples in their fields. It's been 100 years since he propagated the first apple trees here, which still reap rich harvest, and the valley is one of the wealthiest in the Himalayas.
Culture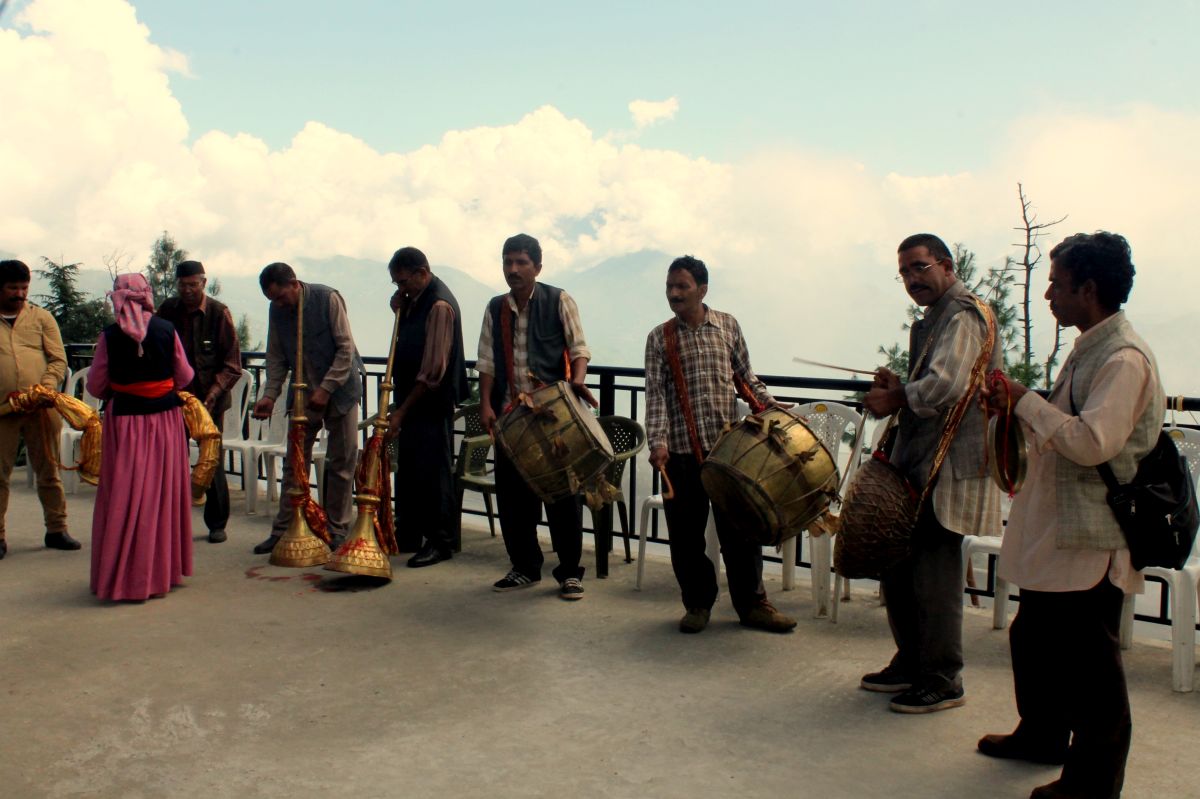 Kotgarh is endowed with a slew of rich, diverse cultures that has distinct societal mores, languages, music, and architecture. The place has deep cultural roots for all aspects of life from the way of dressing to celebration of life.
Attire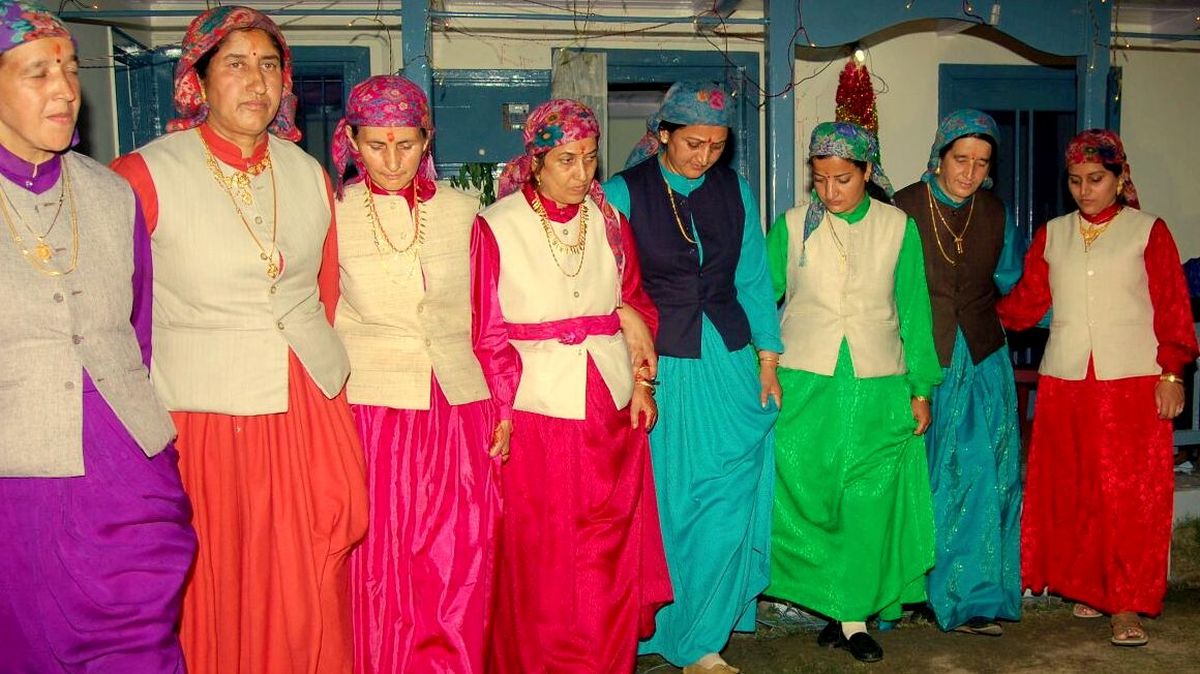 Traditional dress of women comprises the rezta (long dress), the dhatu (head scarf) and the saluka (waist coat). During the winter months (November to March) the women wear a woollen garment called "Phakti". The men wear a Kurta, a pyjama called Sutan and a Saluka.
Music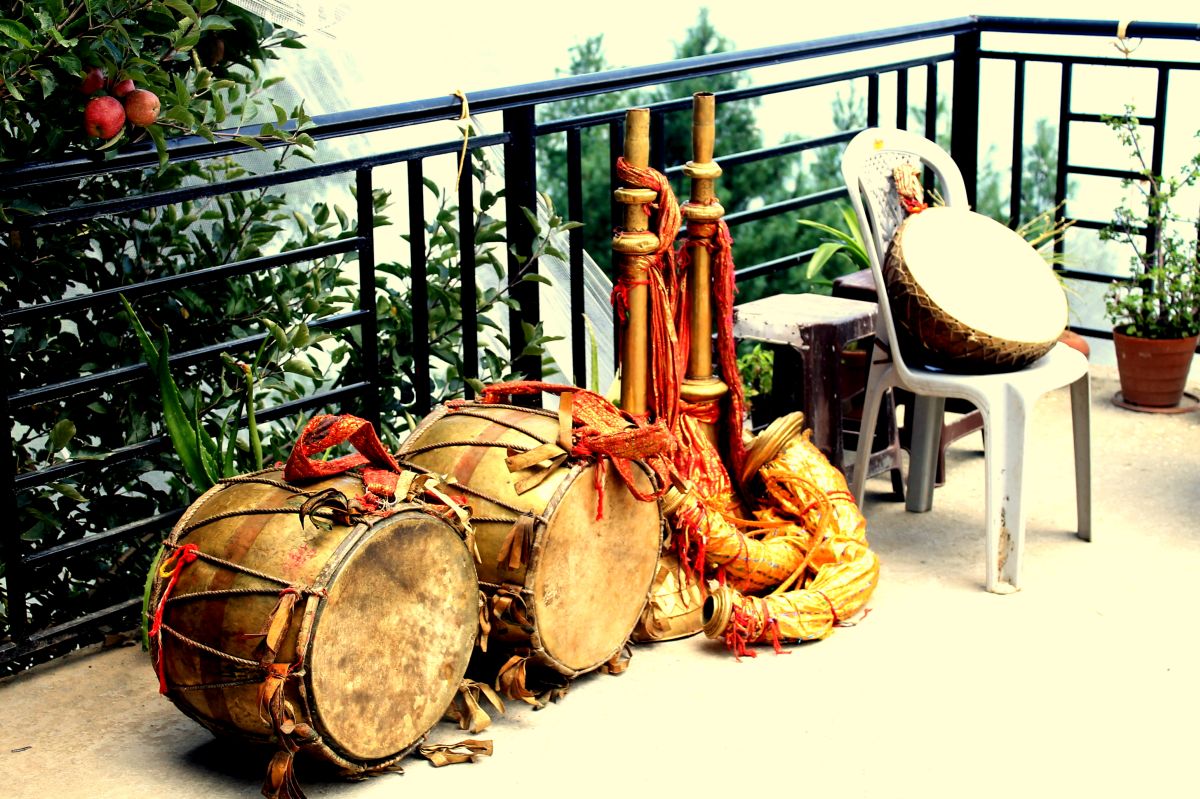 There is a local traditional Pahari Baja (set of musical instruments), that graces all festive occasions like marriages and fairs which are known as Jatar. The Baja belongs to the local Devtas (Gods). The Baja is given the highest respect and honour. The Baja consists of
. Two large Dhols
. Nagaras or Half drums
. Bhana or a Metal plate
. Two pair of Karnals or low frequency horns
. Narsingha or S shaped high frequency horns
. Sarnai (Shenai) that plays melodies notes
. Gujju – a instrument which makes vibrating sounds
. Kawari- a long instrument that makes low frequency sound
The local Baja is used for accompanying the Devtas (local Gods) for Jatars (local fairs). The Baja is also hired by the local people during marriages and social functions.
The local dance is known as Nati which is a four-beat dance rhythm, each beat is unevenly matched, making it sound unlike any other four-beat rhythm.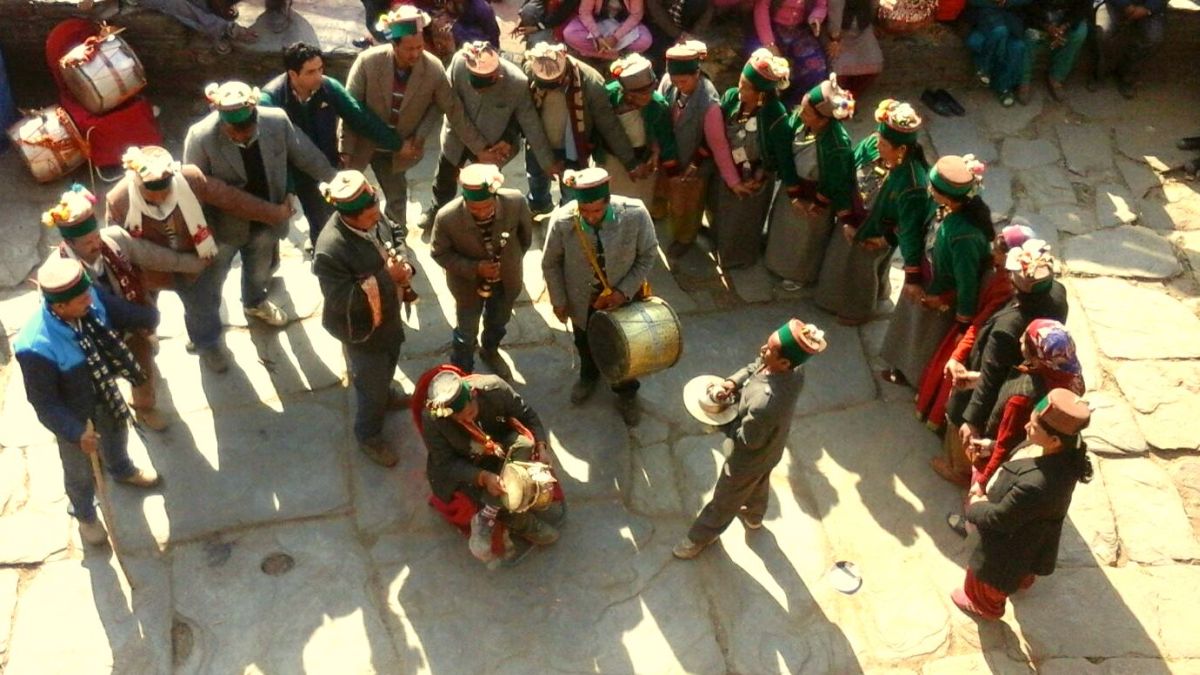 The Nati is played on a local Baja. The combination of the Baja and the Nati (dance) around it is one of the most enjoyable festivities here. Nati is performed in an open area. There is an another form of dance performed indoors called "Bhitru Nach", in which song relating to mythology are sung. The instruments used in Bhitru Nach are Dholki, Khangri and Tahli.
Old songs are mostly related to love stories, religion, freedom moment and heroic tales and wars.
Fairs and Festivals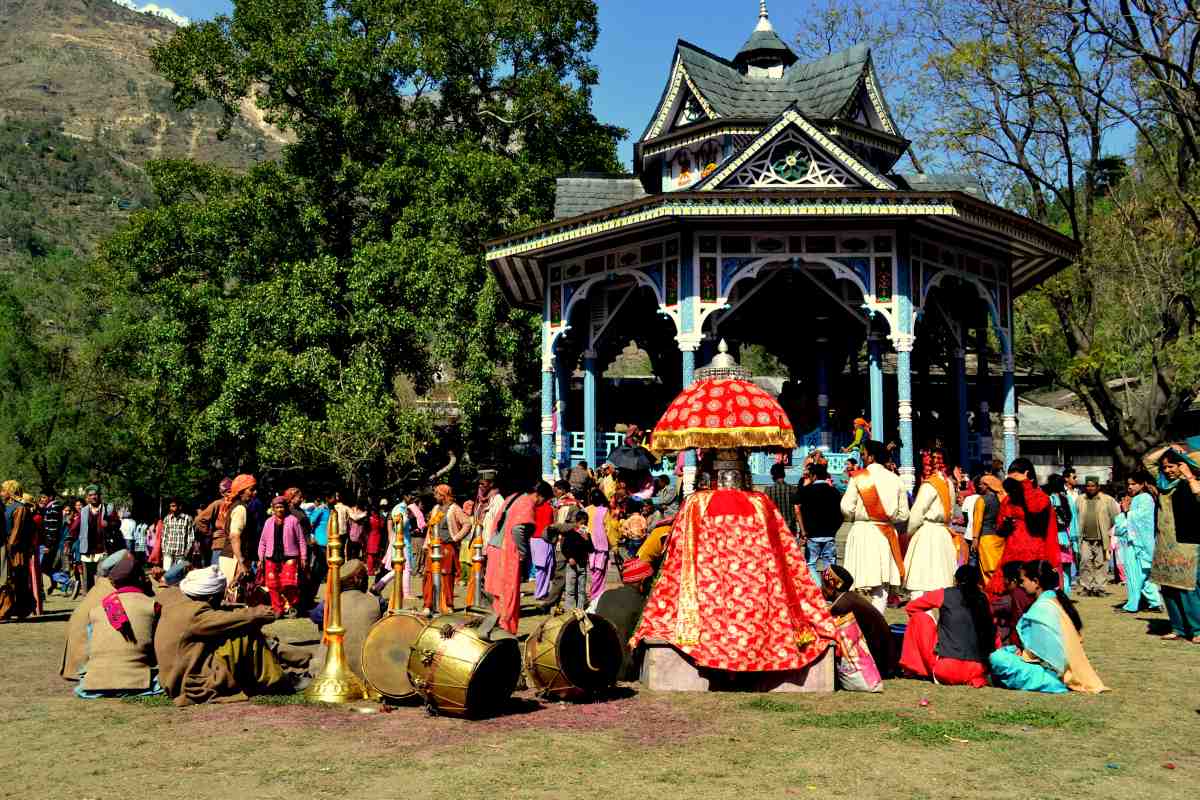 Fairs of Kotgarh and nearby areas
To welcome different seasons, different festivals and fairs are celebrated in the valley. The local deities are invited to these fairs, along with the local Baja. There is lots of merry making and the Nati is performed by forming a semi-circle.
The main fairs or Jatars include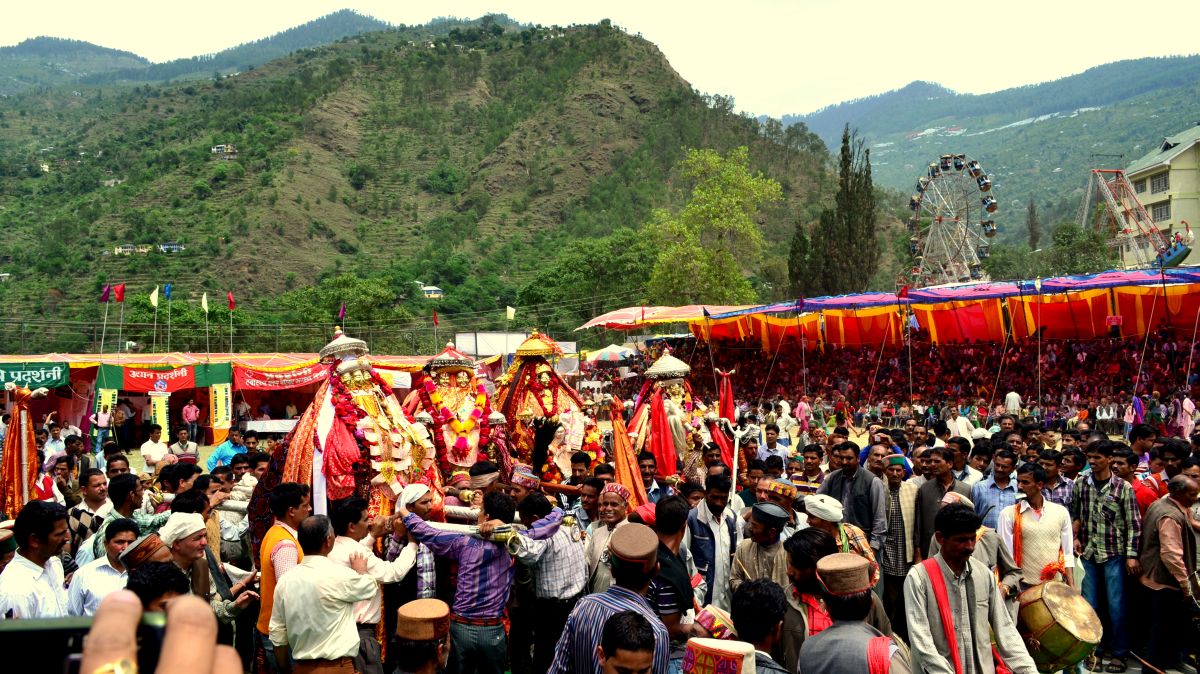 Mela Faag (March)- Devtas are invited by the king of Bushar on the day of Holi
Dhada Thirshu (April)- This is the first Fair of the year which marks the setting of Apple crop.
Krangla ka Bishu- April
Bhutti Jagra.- May
Shraugh Jatar -16 June
Dudh Bali -26 June
Tani Jubbar- 30 June
Lavi mela – 11 November
Tharu ka Thirshu- last mela (Toward the end of year)
Food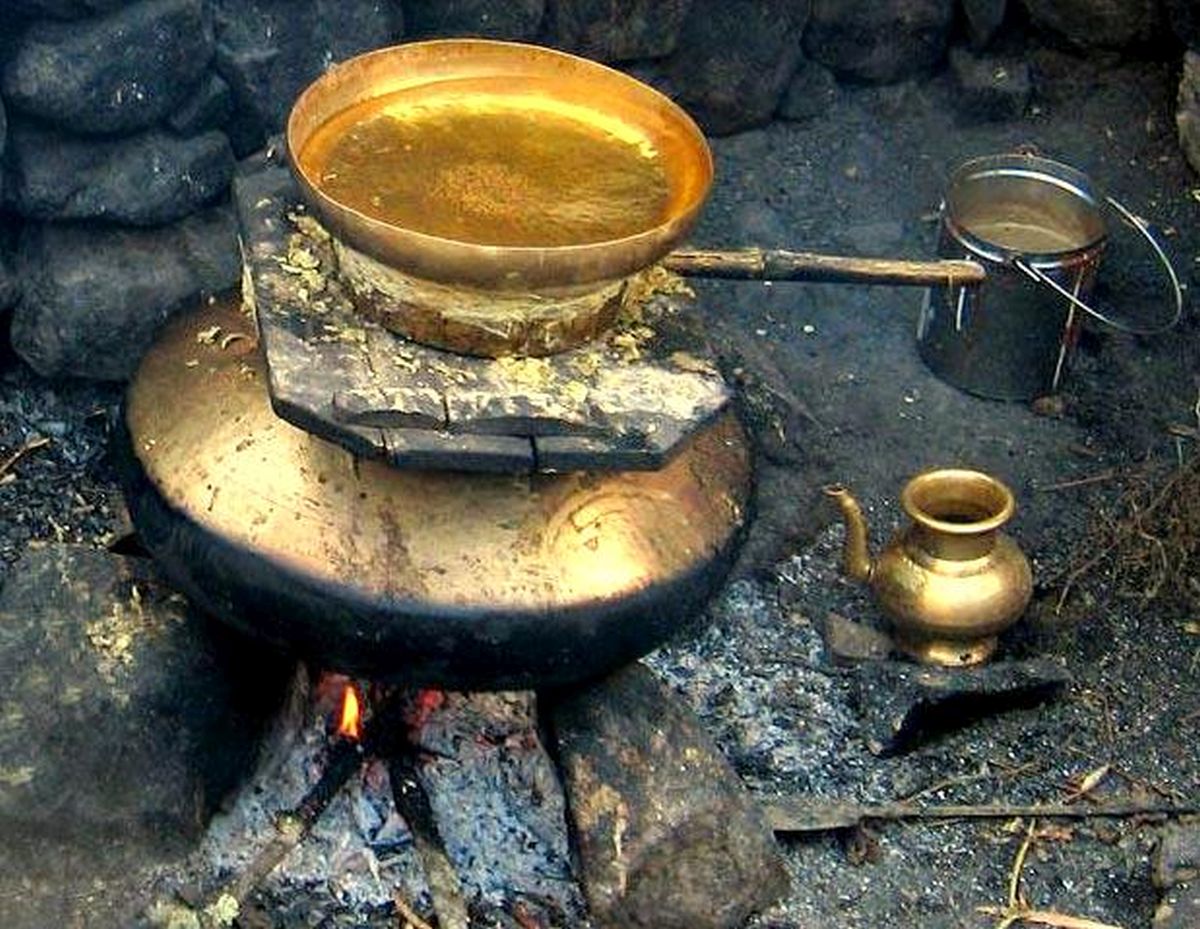 There are varieties of local dishes which are prepared in a traditional way, the most popular of which are
Pakain – Wheat flour stuffed fried bread
Siddu – Steamed Leavened bread with stuffing of
Baturu – Bread made out of fermented flour on griddle
Indra – Made out of kulth dal and Deshard Allo (Arbi)
Dhindra – A combination of Basin flour and Arbi leaves
Baahdi – A combination of wheat, sugar or salt, ghee and water
Khatta – Curd and Whey cooked with spices
Laphi – Made with a grind of corn like porridge
Lauta – Pancake of wheat flour
Delle ki chutney- Chutney made of apricot kernel
Brunj – Sweetened fried rice in ghee
Sera – Sweetdish cooked in ghee from the extract of wheat grain.
Red rice – Special rice grown in himalayan glaciated-water-fed farms
Kodha roti – Indian flat bread made from Kodha
Makki roti –Corn flour Indian flat bread served with fresh white butter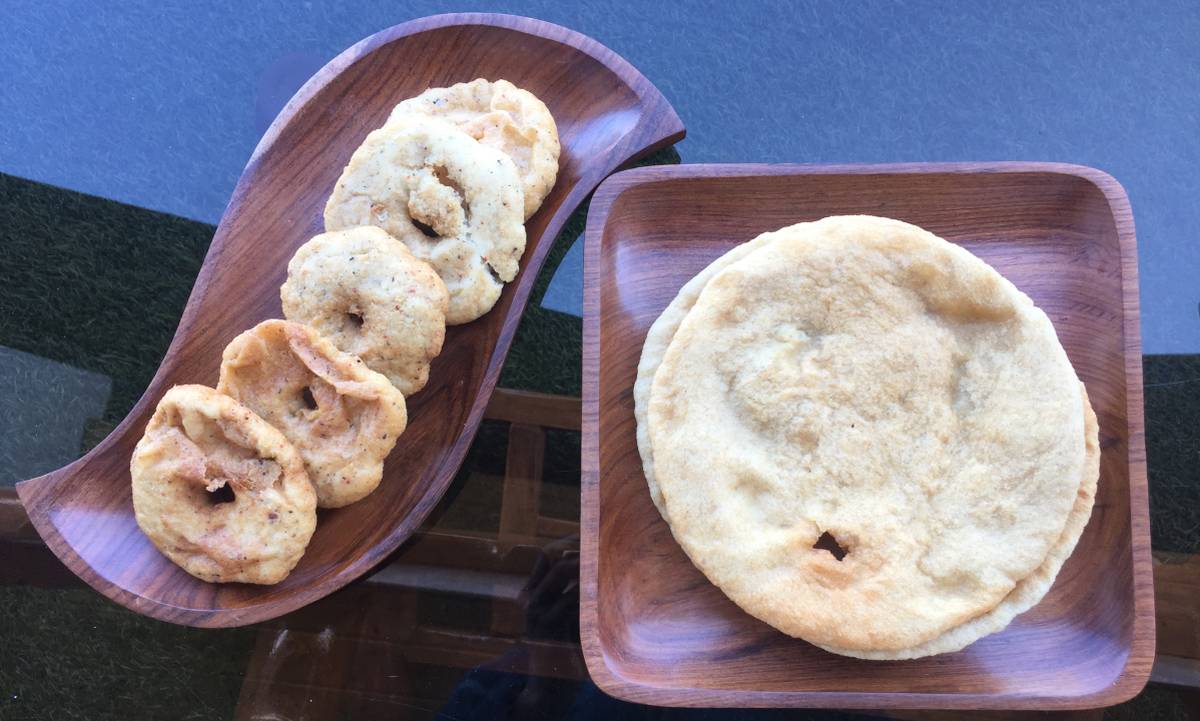 There are some delicacies which are gathered from the forests like
Kungshi- Nettle leaves, which are used as stuffings.
Raichi – Wild Mushrooms
Lingude – A fiddle head ferm rich in Iron
Gucchi – Wild mushroom that grows post lightening
Braltu- A grass which grows in the fields served as fresh green vegetable
Flora and Fauna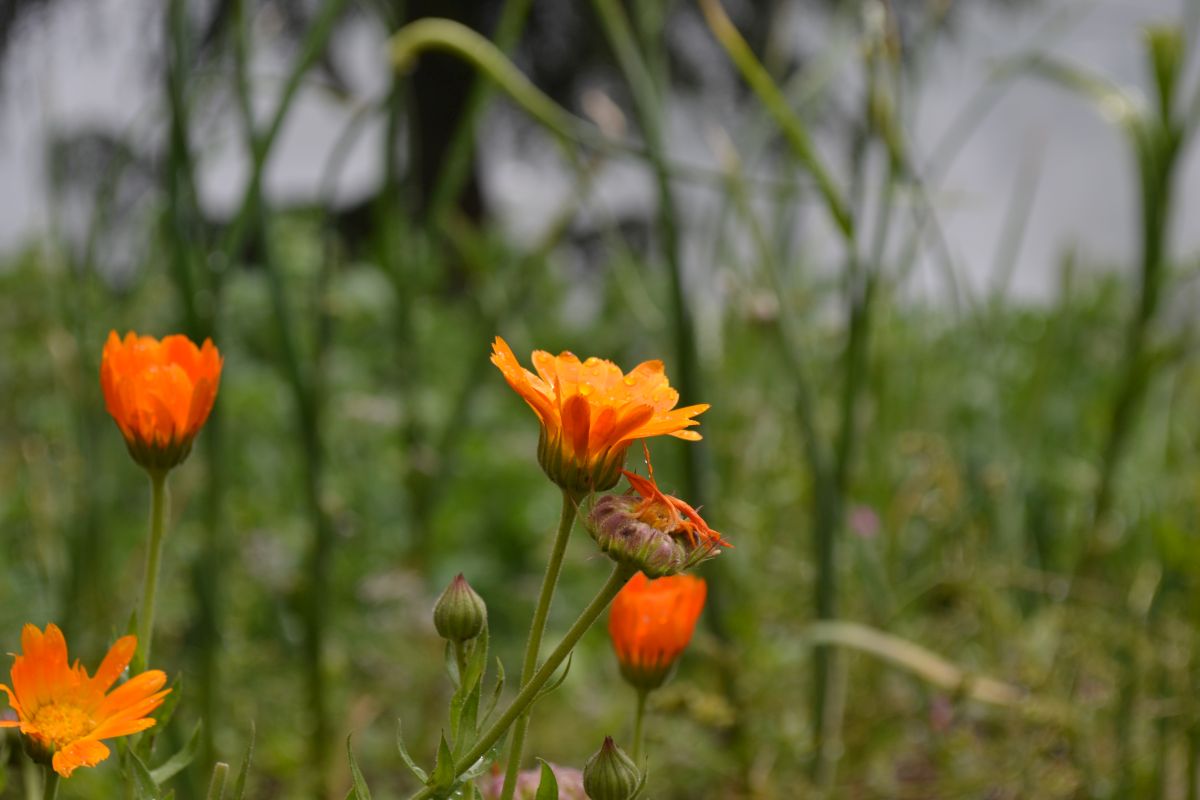 There is a thick reserve forest from Narkanda toward kotgarh which consist of Pine, Deodar, Oak, Moru, Rye trees. There is also abundant wildlife in these forests. One can sight spotted Leopards, the Himalayan fox, Black bear, Jungle foul etc.